Neuseeland bekommt ein int. Bike-Etappenrennen
Wie in diesen Tagen bekannt wurde, bekommt nun auch Neuseeland ein grosses internationales Mountainbike-Etappenrennen analog Veranstaltungen wie dem Cape-Epic oder der Tour-Transalp.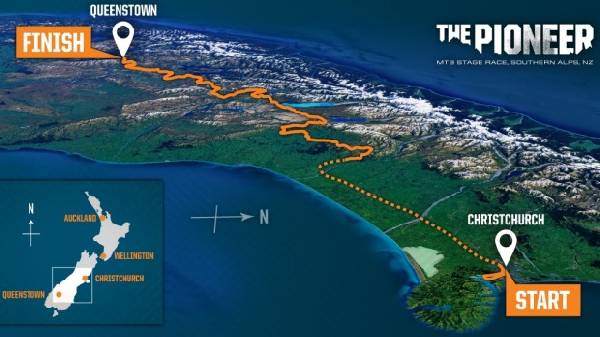 Streckenplan
The Pioneer was officially launched today in Christchurch, an audacious seven-day mountain bike stage race for elites and amateurs alike that takes riders (in teams of two) through the best of New Zealand's spectacular landscape along trails that few ever get to enjoy, following in the footsteps of New Zealand's early explorers.
The Pioneer will take place from Sunday 31January to Saturday 6 February 2016, taking riders through outstanding terrain, with great climbs and descents on New Zealand Cycle Trails, farm tracks, DOC trails and along world class single tracks between Christchurch and Queenstown, traversing the stunning Southern Alps.
CEO of Event Deliverer Lagardere Oceania Unlimited- Dave Beeche spoke of the truly global and national appeal of a unique event in this part of the world.
"The Pioneer will become an iconic 'brand New Zealand' event that will feature the best of our beautiful country across a variety of amazing terrain including our stunning new bike trails, well graded tracks, single track and 'off the beaten track' trails through New Zealand's back country, many that have never been ridden before.
"This will appeal enormously to not only international visitors but also to New Zealanders of all abilities. There will be an elite division but this race is also about everyday New Zealanders who love mountain biking as a social event, to come and take part in a challenging but achievable event and to enjoy the camaraderie at the end of each day to ease away the aches and pains while the memories of each day's riding and socializing will live long beyond the event itself."
Demand is expected to be high for what will be a truly world class event in some of the most amazing settings anywhere in the world, and with entries capped at 1000 in year one, places in The Pioneer will be treasured by those who commit to this amazing challenge.
By design, The Pioneer will be within reach for those with a moderate level of mountain bike riding ability, but will not be for the 'faint hearted'; it will be a tough and demanding race that will push competitors to their limits; both mentally and physically in teams of two. It will be a full service race, with everything taken care of from the start - all riders need to think about is riding and recovering each night in the daily camps that will be set up ahead of the arrival of participants.
Amongst those at the launch sharing their delight in the news were Commonwealth Games mountain bike gold medalist Anton Cooper and multi-sport legend Steve Gurney. Gurney was typically effusive in his praise of an event that takes competitors into his 'backyard' like no other before.
"Wow, we have an international bucket-list mountain bike event in our own backyard! I love the stage racing format and teaming with a mate. What a great way to see our extraordinary back-country that we wouldn't normally get to see. This will have the mountain bike community abuzz around the world, it will be a truly great event."
Beeche backed that up, saying the challenge of completing The Pioneer would go global as the event looks to establish itself as one of the world's most iconic mountain bike stage races.
"We are inviting New Zealanders and international visitors to join us and ride this awe inspiring journey. We should be incredibly proud of our natural beauty and stunning landscapes, The Pioneer gives riders the chance to experience it like never before. This is a chance to lose yourself in the most stunning scenery on earth in a uniquely Kiwi event that will provide truly memorable experiences on and off the bike."
The Pioneer will be 'book-ended' with one day mass participation races in Christchurch and Queenstown that will be targeted more specifically to the more social riders, families and children and to celebrate those taking part in The Pioneer.
The Christchurch event on Sunday 31 January 2016 will be an achievable prologue event that features riding through the central city, taking in iconic sites and showcasing many new developments through to the mountain bike trails in the Port Hills and back into town. This promises to be an exciting journey through and around the city.
Christchurch Mayor Lianne Dalziel says this is a great event for Christchurch, allowing participants in the prologue event to see the very best of the city.
"Riders of all ages and abilities can get a flavor of what the full seven-day event, the only one of its kind in New Zealand, has to offer. I encourage the community to get out and give it a go and experience mountain biking at its best in a safe, fun and controlled environment.
"There's plenty going on in our city, so I hope anyone visiting for this event can take some time out to relax and enjoy what's on offer."
Pioneer riders will then be transited to Geraldine to start day two of the seven-day epic ride through the Southern Alps. Day seven will feature a big finish and party in Queenstown, again with a mass participation ride to end an amazing week.
One of the features of The Pioneer is the setting up of a race village each night in the host towns, with riders staying in Christchurch, Geraldine, Fairlie, Lake Tekapo, Lake Ohau, Hawea, Snow Farm and Queenstown. Riders will find everything in readiness for them, as they experience the legendary hospitality of the South.
Externe Links
Artikel des Tages
ROTWILD Steuersatz / Ersatzsteuerlager Acros MHS1 Anti-Rotate [kompletter Satz] 1.1/8 - 1.5 Zoll